Discussion Starter
•
#1
•
so Sharlette was in a 24 inch cage with her "sister" Chablis a chihuahua. THEY WERE CRAMPED! lol They didn't seem to mind at all .....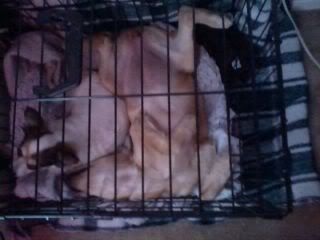 sharlette slept like this every night LOL
But I knew it was time for a new crate. So TAHDAH!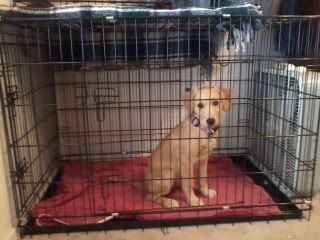 a bit roomy right now but I am sure she will grow into it FAST. it is a 42 inch. I got a GREAT deal from E-bay... brand new with free fedex shipping for only 66 bucks. I ordered it the 13th and got it today.... so given there was a holiday and a weekend since the date of ordered to today that was some FAST free shipping. :O) I am so happy.
Chablis' 24 inch cage is stacked on top now.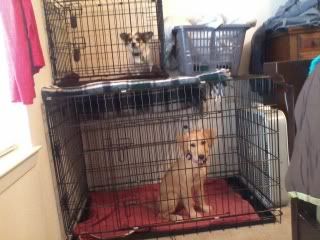 I was going to keep them in the same crate but Chablis wont quick licking the insides of Sharlettes ears ALL NIGHT... she flips Sharlettes ears back to lick inside them and then Sharletts ears end up flipped back ALL NIGHT and her ears have started staying like that. it bugs the heck out of me... its like Chablis is deforming the cartlage and making her ears want to natuarly stay "open"
as silly as she looks it bugs the heck out of me and then when I flip her ears back down they want to like collapse and not be perky out on the sides of her head... instead they do what I call a fortune cookie... and fold up funny like a muts ears... so I end up having to like rub on her ears to get the funny bend out of them that has got stuck in her ears from being folded open for so many hours at night.
any how ok I wanted to share about my new crate. :O)