Discussion Starter
·
#1
·
Hello everybody!
Please meet my boy Dobie, my 8 weeks old Golden. Really nice to meet you all!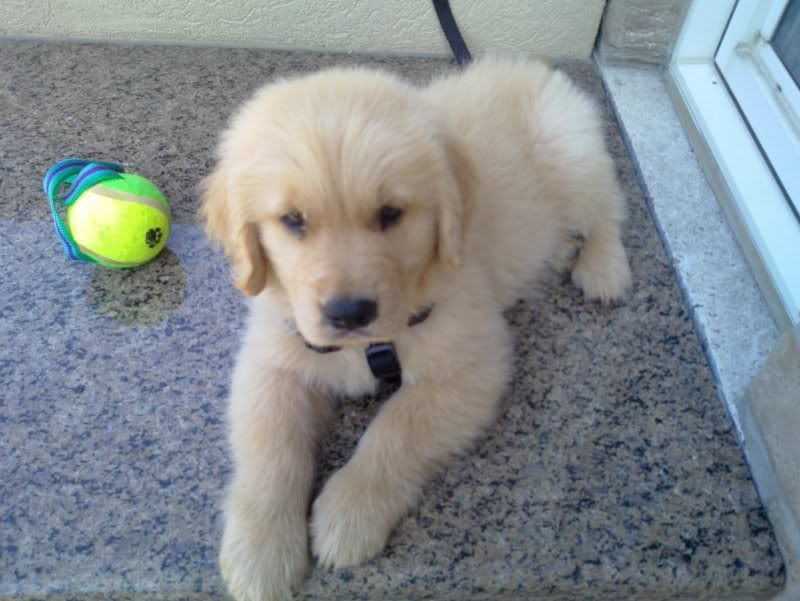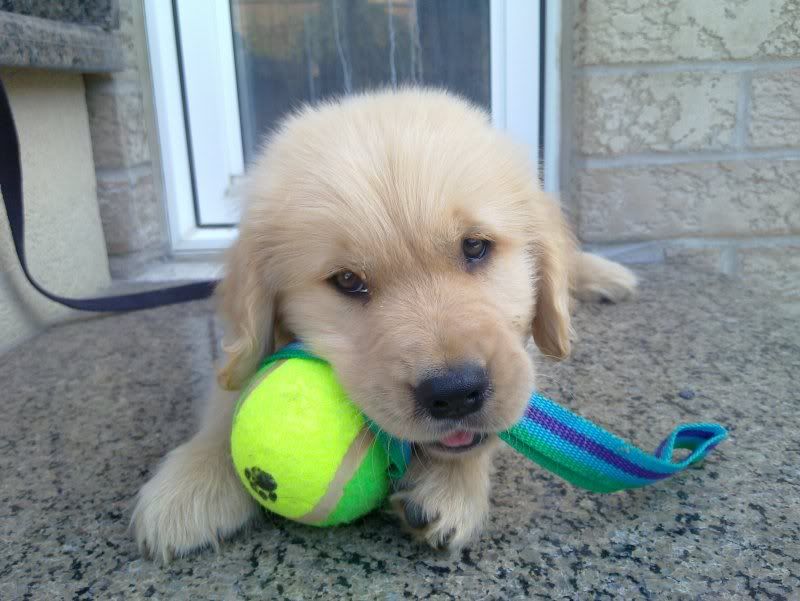 I have used a lot of post and information so thank you all in advance, thank you all or making this forum so active, it really helps newcomers like me. I got quite a bit of questions and I really hope if you guys have time, please help me out. I am going to seperate it in different topics, you don't have to answer all because I literally wrote an essay (sorry but I just want the best for him!). Any help would be MUCH appreciated.
Crate training
I am crate training now and I wake up every 2 to 3 hours to take him out to potty at night, is it neccessary because I read soo many post, some say their puppy can hold all night (6 7 hours). It would be awesome if he can do that because I have loooong hours of work so I really need the rest but at the same time I do not want to take a gamble that would set him back in crate training.
Also when I crate him while I am around, should I even be giving eye contact or anything or just completely ignore him?
Leash/collar
When I take him out to potty or to play, I would put on the harness and the leash. But he absolutely HATES it. He would scratch it and cry
He would LITERALLY sit right there and not move at all. I made a
DUMB
mistake and I tried pulling him because I actually saw a video of a good trainer. He said if the dog stops, just keep walking and he will get up and give a little pull. So I did that, and he didn't even get up AT ALL. I search here and people say just put the leash on him inside and let him run around with it. but when i did that, he literally don't move more than 2 steps. I do not know what I can do. I just went out to buy a collar instead of a harness and a shorter leash (the last one was suppppper long) How can I nicely introduce this to the pup? Please help!
Low energy personality
The pup doesn't seem to be interested in anything! He does not come when called and even if I walk far away he wouldn't follow after me. He would just lie there on the grass and eat the grass. After a little he would cry and I would show up, but he STILL sits there. What am I doing wrong? Arn't all puppy supposed to be very curious and always follow the owner? How can I change this?
Hate outdoors?
Dobie does not want to be outside. Every single time I take him out to potty, right after he finish his business, he would just run back to the backyard glass door, scratches the door and then cries. I tried to bring him far away from the door and he always stays in the shade and do absolutely nothing. Please help!!
Training
I am training him already, but it seems like he is not very responsive and his attention span is so short I cannot even use short to describe. Is it too early to train him? Because I have read that some proud owners here trained their 8 weeks old puppy to sit, fetch and stay first week! But my little guy is not eager to learn at all! Say he is lying down, I would let him eat a small puppy buscuit so he knows what it is, then I would say UP, and lift the treat up so he will stand up, but he does not even bother standing up. lol then he would do something else. or when I say sit, he would do it and I would give him the treat, but sometimes he does not do it, and while I wait, he would just wonder off! Is it because my treat is not enticing enough? Or is it because I am training him too early, one of the trainers in Petsmart told me to not to train him yet other than crate training, and to build a stronger bond first in case I do something wrong, is that correct?
Thank you so so much guys, you do not know how much this means to me, honestly. I just want everything to go well. Thank you sooooooo much guys, ANY replies would be awesome!