Discussion Starter
•
#1
•
I love what a kind heart my hubby has. We were at the pet store yesterday and we walked past the small rodent cages. There were 3 very small rats huddled in a corner, obviously nervous about the dogs and people running around the store. My hubby goes "Valentino [our 2 yr old rat] needs friends, right?" so I go "yeah, they are social animals." He dissappears and comes back with a clerk. The clerk goes "You wanted to see these guys?" My hubby goes "no, I want to BUY all three." So, meet the new members of our small family:
The tan one is Rudy, the Strong. The grey one with the stripe down his nose is Petey, the Brave.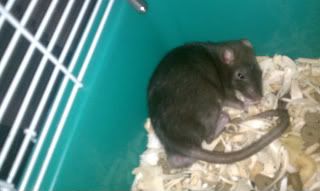 And this guy is Dexter, the Meek.
The boys are adjusting well...enjoying the better food and multiple treats. Petey has already taken to Maggie, and all three are ok with being picked up, though being only about 6 wks old, they are more interested in exploring and squirming into pockets.