Discussion Starter
·
#1
·
Here's a new one for me...I'm visiting my 87 year old mother and my brother is down here taking care of her. We went off to the store for groceries with both of our dogs in tow. I've got an white Expedition that I leave all the seats down cause I've always got dogs back there. It's a warm day down here in the bay area, 85 degree's, so I leave all the windows cracked, front windows 4 inches down and the back windows about 6 inches and always leave the sun roof completely open for ventilation.
When we go in a store I always go back out and check on the dogs to make sure they're okay and the car is still there...so I get out to the car and am in the process of giving the dogs some water when a police car pulls up behind me and an officer starts to get out. I give him a friendly hello as I continue to take care of the dogs when he walks up to me and says I'm here for your dogs...I almost fell over when he said they'd received a call saying the dogs were in danger and that's why he was here.
I showed him how the car was left with the windows down and the sun roof open and he shook his head saying we get these calls all the time from this parking lot...he was very friendly and said obviously the dogs are fine - sorry to bother you. I told him no problem and said it's nice to know people care and take the time to make these kind of calls.
He took off and it was then I noticed a slip of paper inside the car with the following note:
"You're an ass for leaving your dog in the car..Would you leave your kid in here too..."
I look back on it now and think to myself good for you - had these dogs been in danger you very well may have saved their lives - absolutely no hard feelings here!!!
My brother and I talked about it on the drive home and were trying to decide what is safe when leaving a dog in the car on a hot day when you have no choice...if you leave the windows completely down you risk the dog jumping out and getting hit by a car or getting lost. You also risk someone walking off with your dog. I could live with the car being stolen but if were stolen with my dog in it WATCH OUT CAUSE ALL HELL IS GOING TO BREAK LOOSE!!!
What do you do to protect your dog when it's necessary to leave him in a car?
Woody with my 87 year old Mom...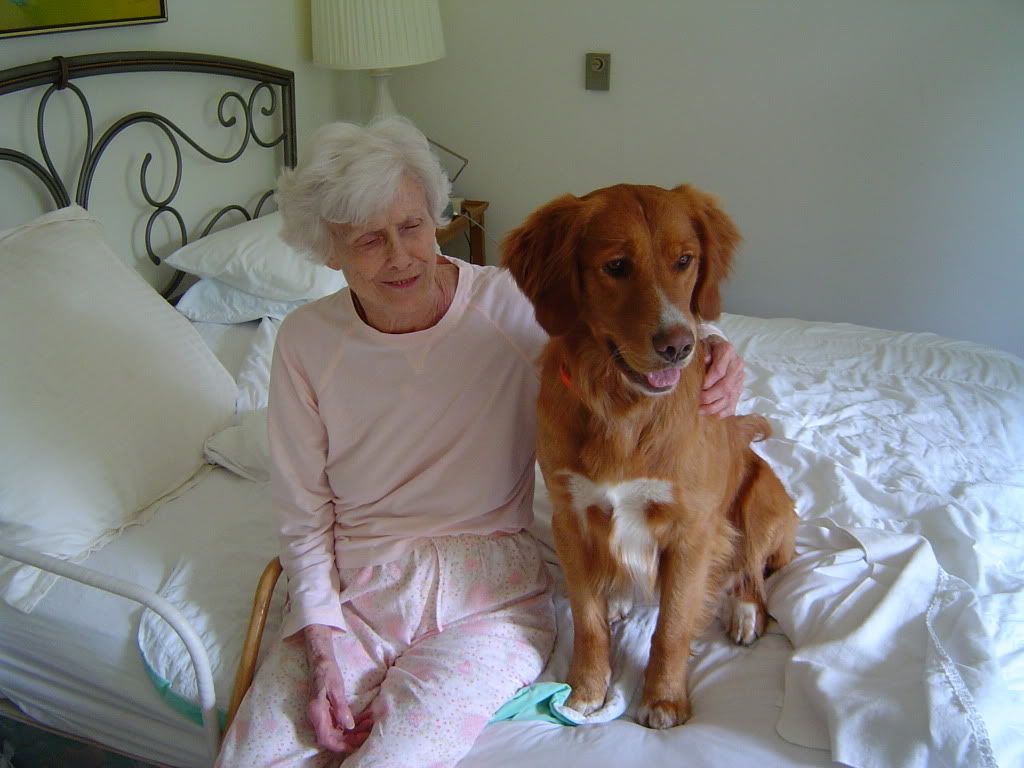 Pete