Discussion Starter
•
#1
•
I have gone against my four dog limit and taken in a 10 month old female Aussie.
I would gladly post pics,
if
I could get her to sit still for the 5 seconds it would take me to get one. This is the only one I have been able to get.
Meet Mia!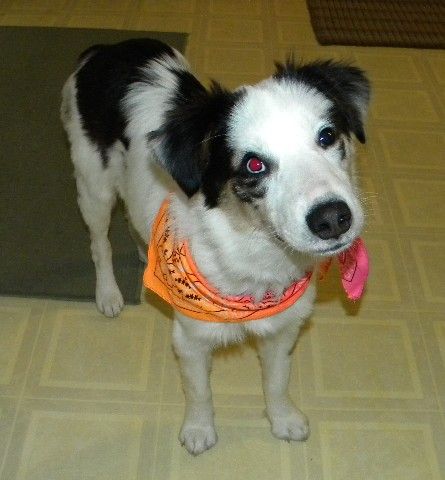 She's a beautiful 28 lb girl, and a real sweetheart. I didn't go into this completely blind. I have always wanted an Aussie, so felt fairly knowledgeable about them when I was approached to take her on. (Her coat was trimmed last summer, and she was trimmed again the day she came to me. She is a blue merle and I wish I could get a pic of her other side. She will be stunning when her hair grows back in.)
She has never met a stranger, and her personality is HUGE. So is her energy level!
Anyway, I introduced her to my laid back gang 2 days ago. The big dogs are fine with her "in your face" antics. She doesn't try to herd them. She is herding me at times, and the little dogs. I am working with her on this but the little ones are NOT impressed.
We are trying to wear her out with exercise, and looking for some agility equipment to set up and start working with her in that respect. The herding is the main issue. My grouchy little terrier is horrified that someone would try to tell him which direction to go in, and my Chihuahua wants her dead.
She's too high energy to keep crated or tethered to me until the little ones adjust. They are older dogs and she's invading their space more than they would like, so I don't want to crate them. It would be like punishment to them, and they were here first.
I want this to work out, she's a lovely girl, fully house and crate trained. She is so intelligent, and she's quite the clown. We have a large fenced yard, and she plays well with the two big ones.
I have never seen a dog with this much energy, and I've been around the block a time or two. It's a kind of nervous energy, she is rarely still unless she is in her crate, but other than sleeping at night, I don't put her in it unless I have no other choice. And the thing is, I don't really feel like it's her age, I think she is just a busy, high energy dog who is not getting to do what she was bred to do (herd), and I have to find the perfect "job" for her. We're hoping agility training will do the trick.
Any suggestions other than what I am trying to do here? My main concern is stopping her from herding the two little ones, and other than correcting her when I catch her doing it, I don't know what else to do. They are getting a little more tolerant of her every day, but I feel like I am constantly correcting her and that worries me, too.
I'm open to any ideas!