Holly
---
Holly

I hope Isla's limp gets better-please keep us posted.
I think that Isla could be a mix between a Golden and a Lab. She is one gorgeous girl and I love her coat and it's color!!
---
Tucker, Tonka, and Karen
SNOBEAR at the Bridge
Dec. 23, 1999-March 27, 2010
SMOOCH at the Bridge.
Feb. 14, 1999-Dec. 7, 2010
<><><><><>
Join Date: Feb 2012
Location: Minnesota
Posts: 2,643
Mentioned: 0 Post(s)
Quoted: 0 Post(s)
Thanks: 1,868
Thanked 2,029 Times in 1,073 Posts
Shalva,
That picture of Kaelyn looks strikingly similar to Bella. How old is she in that picture?
Last Saturday: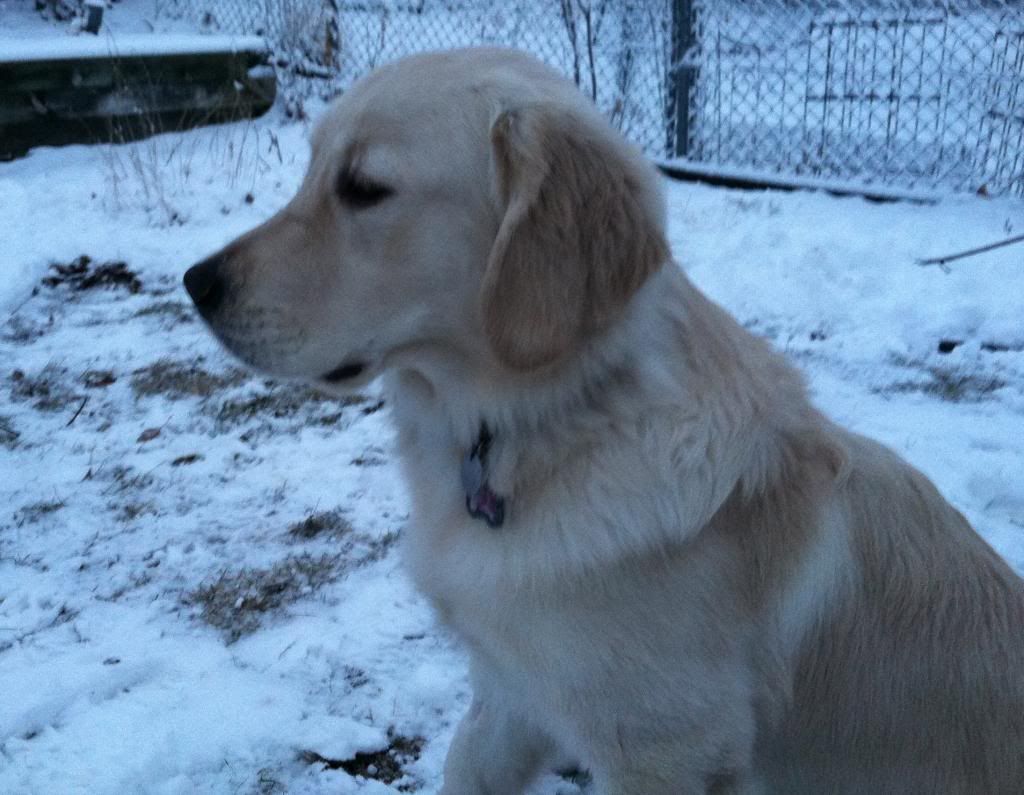 ---
Grasslands Liberty Belle "Bella" CDX BN PCD CGC UCD (Born 5-7-2012)
Tania
Join Date: Jun 2012
Location: France
Posts: 899
Mentioned: 0 Post(s)
Quoted: 0 Post(s)
Thanks: 282
Thanked 577 Times in 396 Posts
She is the mix of the best of both worlds
It is gonna be a late xmas present to discouver the origins of your lovely puppy!
Can't get enough of your signature pic, just love it! It makes me smile everytime
Preeminent Member
Join Date: Oct 2011
Location: El Dorado County, CA
Posts: 10,884
Mentioned: 0 Post(s)
Quoted: 73 Post(s)
Thanks: 15,547
Thanked 11,345 Times in 5,626 Posts
I've seen shows on GR- Lab litters that were bred for service dog training...

You know, she does have a Lab look, but it sounds like she has a Golden personality. You should do a DNA test just for fun. It's also useful info for you and your vet to have.

How old is she? Some GRs don't get their feathers until they're in their second year. She sure is pretty. Hope her limp is gone soon!
Senior Member
Join Date: Apr 2012
Location: Clearwater, FL
Posts: 3,504
Mentioned: 0 Post(s)
Quoted: 1 Post(s)
Thanks: 1,641
Thanked 3,575 Times in 1,864 Posts
What Isla is is a beautiful girl. I'm a short drive away from Southeastern Guide Dogs and they no longer use Goldens, but do a Labs and Golden/Lab cross because their coats are ealier maintenance for the blind. While Tayla is pure Golden she has a much shorter coat than many and for that I'm thankful.
---
Barb, Rick, "Tayla" Ruff Start Hot On The Trail (STAR Puppy) (Born 11/11, Gotcha 3/12) and "Lily" Stargazer's Make It So, CGC (Gotcha 12/21/13)
http://pdgf.pitapata.com/ABfhm4.png
http://pdgf.pitapata.com/cZiWm5.png
Cheyenne (CGC) and Jesse (CGC) who will be always loved and never forgotten.
Member
Join Date: Apr 2012
Location: canada
Posts: 143
Mentioned: 0 Post(s)
Quoted: 0 Post(s)
Thanks: 7
Thanked 72 Times in 47 Posts
ours is a mix of english cream and her hair is not as long as others - looks more like yours - but she was quite fluffy as a puppy - and in the last few months is getting a big fan tail and legs are getting the fluff now - not a reputable breeder either - but i love the shorter hair - if it stays i'll be thrilled - i have noticed that the cream ones i've seen don't seem as fluffy usually as the regular beige - but i did see a red golden today in the dog park with shorter hair as well and he was over a year

i've posted her baby shot, first night home, at 8 months and last week - she'll be a year on boxing day
Kate
Join Date: Jun 2010
Location: MI
Posts: 18,218
Mentioned: 9 Post(s)
Quoted: 97 Post(s)
Thanks: 8,358
Thanked 13,065 Times in 6,741 Posts
How old is Isla? I'm going by her belly that she's still young.
I totally agree with Shalva in her comments that these English style goldens are not as full coated as your average American bred golden (who were specifically bred for more coat and sooner for show reasons). As you seem to have a young golden, I would hold off freaking out.
Two things I noticed is she has a longer nose than most goldens and her ears look more like lab ears. She may grow into both...
---
Member
Join Date: Apr 2012
Location: canada
Posts: 143
Mentioned: 0 Post(s)
Quoted: 0 Post(s)
Thanks: 7
Thanked 72 Times in 47 Posts
Got this off a website - mentions the fur is shorter among some other anatomical differences


Differences Between the American and English Goldens
In American Goldens the eyes are well apart. They are also slanted and triangular in shape. The eyes seem narrower. In comparison the English Goldens have a rounded eye shape. The eyes are also darker.
The ears in the English Golden are aligned with the level of the eyes, while the ears of the American Golden are above the level of the eyes
The head is usually smaller in American Goldens compared to British Goldens
English Goldens have a square facial structure and broad skull while the American Goldens have a long facial structure that is almost conical in shape
English Goldens are big boned in comparison, they are muscular and they are stockier.
But American Goldens score on height. English Goldens are shorter.
English Goldens are also slightly heavier in comparison
The body structure and legs are slightly different. English Goldens have a visibly level top line, with the legs appearing straighter. The American Goldens tend to have a rather sloping top line with the legs not so straight. In fact the legs seem to be standing out.
The fur in the English Goldens usually grows to a slightly shorter length compared to American Goldens. This is an advantage for pet owners of English Cream because the shorter fur is considered easier to groom.
Given the differences in the shape of the eyes and facial structure, their expressions come across slightly different. But both types are gentle eyed and have a calm demeanor and an intelligence air about them.
As you can see there many distinctive physical differences between English Cream Golden Retrievers and the American Golden Retrievers. Breeders and show dog owners can very easily tell these differences. For the average person, the indicators given above will help you observe and tell them apart.
You can start with the color of their coat. You can observe the eyes. You can compare the marked variation in facial structure. It is quite interesting that the same breed can be so subtly different across regions.
Member
Join Date: Oct 2011
Location: St.Charles, IL
Posts: 206
Mentioned: 0 Post(s)
Quoted: 0 Post(s)
Thanks: 129
Thanked 86 Times in 47 Posts
She doesn't look like a purebred Golden to me (American or english).
But she's adorable
Member
Join Date: Sep 2012
Location: Texas
Posts: 459
Mentioned: 0 Post(s)
Quoted: 0 Post(s)
Thanks: 226
Thanked 263 Times in 145 Posts
If she is a lab/golden cross I agree she is the best of both worlds. My Yukon is 1/4 lab and is by pass the best dog I've ever had in every aspect.
---
| | |
| --- | --- |
| The Following User Says Thank You to Cari For This Useful Post: | |