July 2016 Featured Golden Retriever Rescue
---
Duplicate post
---
Last edited by CAROLINA MOM; 07-17-2016 at

09:01 AM

. Reason: duplicate post
Golden Retriever Freedom Rescue, Inc. About Us
---
About Us
Quote:
ABOUT US
We are Animal Rescuers. We take in helpless, unwanted, homeless creatures without planning for selection. We are a quiet but determined army, and we are making a difference every day. Nothing is more rewarding than saving a life. No higher recognition than watching them thrive. There is no greater joy than seeing a puppy play, who only days ago, was too weak to eat. By the love of those who we have been privileged to rescue, we have been rescued. We know what unconditional love really is. We have seen it shining in the eyes of so many grateful little souls. We are animal rescuers. Our work is never done. Our homes are never quiet but our hearts are always full.
-Dedicated to GRFR - Author Unknown

Founded in 2001, Golden Retriever Freedom Rescue (GRFR) is a nonprofit, charitable 501(c)(3) all volunteer rescue organization. Our mission is to rescue, foster, rehabilitate and adopt abused, neglected, and unwanted Golden Retrievers and Golden-like dogs to permanent homes. All of our Goldens are currently in foster homes which enables GRFR to better assess the temperament of each Golden for matching to the appropriate permanent home and provides prospective owners the opportunity to visit the Golden in a non-kennel environment.

Golden Retrievers placed by GRFR are not suited for an outside-only life and require a place in the home that they can identify as their territory. GRFR attempts to place their Goldens in the appropriate home environment and several interviews will be held between the prospective owners and GRFR which includes a home visit prior to placement.

The Golden Retriever lives to satisfy its family. Consequently obedience training is strongly recommended to ensure maximum bonding and the mutual satisfaction of both the Golden and its owners.

If you are interested in adopting a Golden Retriever, please fill out the Adoption Application or contact us at 303-749-8499.

The placement fee is from $125.00 to $300.00 which covers the cost of medical treatment (spay/neuter, vaccinations and heartworm check) given before the Golden is adopted. Senior Goldens (older than 8 years) and Goldens with special (medical/physical) needs may be adopted at a reduced fee depending on the situation.

We are always in need of Donations and Volunteers. If you or anyone you know would like to help, please come join our family by clicking on the appropriate link above. Thanks again for supporting our efforts to help these wonderful Goldens!

Contact Information:
Hotline:
303-749-8499

Email:Staff

Please email us your Success Story: Success

Address:
PO Box 103130
Denver, CO 80250
Golden Retriever Rescue of the Rockies-About Us
---
Golden Retriever Rescue GRRR Dog Adopt
Quote:
ABOUT

Golden Retriever Rescue of the Rockies (GRRR), with a new home base at Phoebe's Place in Arvada, CO, is a mostly volunteer non-profit 501(c)(3) organization that helps place unwanted, abandoned or surrendered Golden Retrievers into loving forever homes.


GRRR was founded in 1996 by Laura Terroux and has experienced continued organizational growth while working toward the goal of caring for our breed. GRRR re-homes approximately 300 Golden Retrievers annually.


For more information on our organization, please visit our ColoradoGives.org profile.


GRRR can assist you if you currently own a Golden Retriever that you, for any reason, are unable to keep. After evaluation, surrendered Goldens will be taken in by GRRR and provided with the appropriate veterinary care consisting of vaccination updates, spaying or neutering and a general health exam. They are then placed into a loving foster home while our volunteers work to match them with new families. Please click here to surrender a Golden.


GRRR can assist you if you are looking to add a special Golden to your family. GRRR volunteers will help you find the most suitable rescue Golden for your family based on your lifestyle needs and environment. Please click here for our adoption application.

All dogs are either at Phoebe's Place or in foster homes throughout metro Denver. All visits to meet prospective adoptees are by appointment only, after an application has been submitted and evaluated for a possible match.
"LIKE" and Follow Us on Facebook
---
July 2016 Featured Golden Retriever Rescues, Part II
---
The Golden Retriever Club of America National Rescue Committee

Connecticut

Golden Huggs Golden Retriever Rescue

Sunshine Golden Retriever Rescue
Golden Huggs Golden Retriever Rescue
148 Barrett Lane
Williston, Vermont 05495
Phone: 802-734-6830/6771
Email:
Golden_Huggs_Rescue@myfairpoint.net
Territory Serviced: New England and parts of eastern NY state
Sunshine Golden Retriever Rescue
PO Box 1035
Point Clear, AL 36564
(The above address is not a typo. All postal mail should be sent to this address)
Phone & Fax: 203-272-7761
Email:
greatgoldens@hotmail.com
or
sunshinegoldens@gmail.com
Website:
Sunshine Golden Retriever Rescue - Home
Territory Serviced: SGRR places dogs in NJ, Eastern NY, CT, RI, MA, NH, VT, ME

Facebook:
https://www.facebook.com/groups/SunshineGoldenRescue/
Adoption information:
Adoption Info - Sunshine Golden Retriever Rescue
Available dogs:
Adoptable Dogs - Sunshine Golden Retriever Rescue
Fostering:
Fostering - Sunshine Golden Retriever Rescue
Volunteer:
Volunteer - Sunshine Golden Retriever Rescue
Donate:
Paypal - Sunshine Golden Retriever Rescue
Sunshine Golden Retriever Rescue-About Us
---
About Our Rescue - Sunshine Golden Retriever Rescue
About Our Rescue
Sunshine Golden Retriever Rescue is a 501c3 registered rescue group. Since 2005, the volunteers of SGRR rescue Golden Retrievers who have been abandoned, abused or relinquished by their owners. We are dedicated to finding the best possible homes for Golden Retrievers and Retriever mixes in need.
SGRR Serves the Following Areas
Connecticut, Maine, Massachusetts, Eastern New York, New Jersey, New Hampshire, Vermont, and Rhode Island. We have volunteers located in a few Southern states as well. If you live outside this area, please visit the Golden Retriever Club of America National Rescue Committee's website to find a Golden rescue in your area.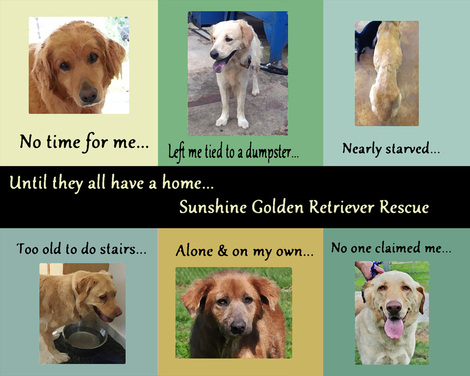 Our Rescued Dogs
Overall, our Goldens and Golden-hearted dogs make wonderful pets and adjust well to their new families. Although it does happen, SGRR rarely has "perfect" dogs in our rescue. We want our applicants to also know that rescued dogs come from a variety of backgrounds. Some dogs are older dogs, including well-behaved and cared for pets whose owners have become ill or died. Many rescued dogs will require continued behavioral work due to a lack of training, neglect, or abuse in the dog's previous setting. A patient and loving owner can make all the difference. From experience, we know that these dogs with "endearing imperfections" can move forward, provided their new family gives them necessary guidance and direction. Love is crucial, but love alone is not enough. Boundaries must be set and rules must be established. Strong human leadership is mandatory. The joys of seeing these Goldens become the devoted and contented pets they were meant to be is remarkable.
Going one step further, SGRR often takes in dogs that might appear "less adoptable" because of the physical conditions in which they have been found. We lovingly nurse the dogs back to health and find them homes that provide that extra TLC these dogs need.
Our adoption process begins when a homeless Golden Retriever is brought into rescue. Each dog is first provided a medical assessment and any necessary treatment including spaying or neutering, heartworm treatment, and vaccinations. We begin evaluating each dog's personality and temperament from the moment they are welcomed into our rescue. We attempt to assess each dog's behavior with other dogs, children, adults, and other animals when available. We observe our dogs to determine their level of house training, crate training, leash skills, knowledge of commands, ability to ride in cars, activity level, and exercise needs. Then, we carefully select homes based on the needs of each individual Golden or Golden-hearted dog.
Owners of rescued dogs can share with you that often their "ideal" dog turned out to be the one that did not immediately catch their eye, but were receptive to the suggestions of SGRR's placement coordinators. At SGRR, our goal is to match the dog's needs with the best home among our approved applicants. We encourage our applicants to keep open minds in terms of their preferences.
"LIKE" and follow us on Facebook
---