If you are interested in ANY breeder and their website doesn't have the information you are looking for, email them and ask. There are sites where you can check if the certifications are legitimate, so not sure why someone would try to fake them, but hey, it takes all kinds to make the world go around.

I have also seen a few breeders get ripped apart on this forum and then they (the breeder) comes here and defends themselves and all was OK. It's a chat board, take nothing anyone says as the gospel, do your own research to check what needs to be checked. People have preferences in trainers, breeders, judges, color, sex...
__________________
There is no love like GOLDEN love!
♥ Jorgee -- 1/25/2001 to 6/21/2012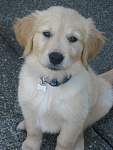 ......................................... Roxxi 5/31/12 ♥

My first Golden Girl...Goldie, age unknown, rescued as an adult stray.